Tumkur, officially renamed as Tumakuru, is a major industrial city located in the southern part of Indian state of Karnataka. Tumkur is situated at a distance of 70 km (43 mi) northwest of Bangalore City – the capital of Karnataka State. It is the headquarters of the Tumkur district. It is located at an altitude of 835 m (2739.5 ft).
Tumkur hosts India's first mega food park, a project of the ministry of food processing. The India Food Park was inaugurated by Prime Minister Narendra Modi in September 2014. NH 48 and NH 73 passes through Tumkur City. It is well connected with Roadways and Railways. Tumkur is also included in the Smart Cities Mission list and is among the 100 smart cities to be developed in India. Since 28 August 2010, Tumkur has been accorded the status of a city corporation.
Nearest Airport is Kempegowda International Airport Limited, Devanahally, Bengaluru; which is about 65kms from Tumakuru City.
The known history of the Tumkur district begins with the Western Ganga dynasty. The Ganga family ruled over the southern and eastern districts of the state from early in the Christian era to 1025 AD. The earliest record of The Ganga family found in this district belongs to about 400 A.D. and After the Gangas, Tumkur was ruled by the Rastrakutas and The Chalukyas. The Nolambas under these rulers ruled the area for a long time. The cholas also ruled some parts of the district. The Vijayanagara Empire ruled supreme for the latter part of the 13th to 17th century. During the 18th and 19th centuries, Tumkur was ruled by The Wodeyars of Mysore until independence.
The Tumkur town municipality was set up by the Mysore Wodeyars in the 1916. Self-rule of the residents of Tumkur started after the setting up of the municipality. Tumkur was converted into a city corporation only in 2010 by adding 22 villages adjoining the city. The population is 3,05,877 as per the 2011 census. Tumkur is now a middle class majority city, with a literacy rate of 80%, mainly traders, government employees, small and medium industrialists, and self-employed individuals.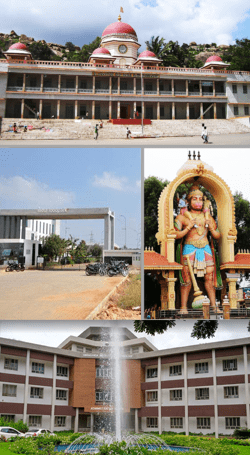 The GDP of Tumkur is around 16600 crores (2014) and the approximate collection of income tax every financial years will be approximately 60-80 crores. Being an Agrarian economy, the major plantation crops of Tumkur are coconut and areca nut. The major cash crops are paddy, ragi and groundnut. Iron ore, manganese and granite are the major minerals found in the Tumkur district.
Tumkur is a knowledge hub in the south interior of Karnataka. It has Tumkur University, two medical colleges, five engineering colleges, 38 degree and postgraduate colleges, one dental college and many polytechnics, high schools and primary schools.
Tumkur is famous for Sree Siddaganga Math 5 km toward Bangalore on NH48 Highway flyover. The Gurukul is known for providing free education and dorms for more than 9000 children. Karnataka Rathna Shivakumara Swami, was the president of this matha.